Personalized Marketing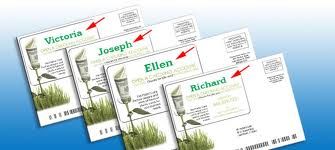 Speak to your audience directly with personalized marketing pieces containing customized headlines, text, graphics and offers. Printing with variable data and images is an explosive power generating response rates up to 10 times higher than traditional static direct mail.
In addition to personalized direct mail, we can use your data to create personalized URL's, QR codes and email marketing efforts, giving you a true one-to-one, multi-channel marketing campaign. The possibilities are endless.
Speak with one of our marketing experts today and open the door to new business opportunities!