Our Staff
Rick Gonzalez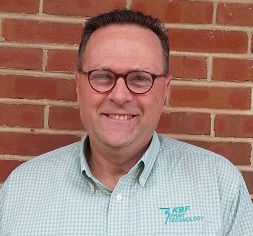 Experiencing both a company name change (formerly Keystone Business Forms) and daily shifts in the business forms and printing industry, Rick began in 1986 at KBF Print Technology. He continues to provide traditional forms products such as medical forms, tags and labels, while venturing into today's popular markets of logo apparel and digital printing.
Prior to starting his career in the printing industry, Rick taught high school English, Spanish and developmental reading and coached boys varsity basketball for 11 years. He daily "teaches" his customers the different aspects of business forms and methods of printing.
Happily married to his wife Diane, the Lycoming College graduates are the proud parents of four sons, including two who are graduates of Lycoming, and first-time grandparents. Rick and Diane are eagerly looking forward to the next chapter in their lives.
Outside of the office Rick enjoys planting, canning and sharing tomatoes and banana peppers, reading autobiographies of former sports heroes, listening to contemporary jazz music, golfing with his sons and vacationing at the beach with his family and the Caribbean with his wife.